Andy Pesich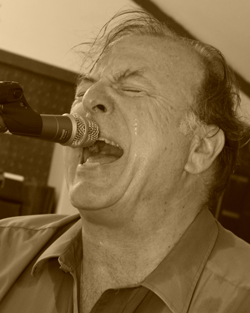 Andy received his M.A. in Music from UCLA in 1976 with Boris Kremenliev as his advisor. While at UCLA he also studied film scoring with David Raksin, in a class in competition with James Horner.
As a teaching assistant one of his jobs was as assistant conductor of the UCLA Madrigal Singers. His first published composition "Praise His Name" (after Psalm 135) for Tenor, Chorus and Organ was published in 1979. Between 1973 and 1976 he was employed also as a singing member of the F.E.L. (Foundation for English Liturgy) Schola Cantorum. Between 1976 and 1979 he was employed in a number of community colleges, notably El Camino, as an instructor. After 1979 he continued teaching privately but opted to make a living otherwise outside of music (he also holds a 1996 B.S. in Computer Science from Long Beach State).
In 1981 he formed the "Galleon" New-Wave trio which played a number of then popular nightclubs including Madame Wong's, Ice House, and Gazzari's. In the 1980's he joined apparently the last incarnation of the Tommy Dorsey Orchestra under Johnny Cress (who inherited the Tommy Dorsey charts). He has published a number of compositions in the last few decades, notably saxophone quartets for Dorn Publications. In the late 1990s he formed the first incarnation of Très O.C. with violinist/pianist Marc Shapiro, who moved to San Francisco and is now part of the San Francisco Symphony.
Très O.C. was reincarnated in 2003 with Ron Lemos (now deceased but who wrote a jazz guitar method book for Hal Leonard) and Ted Bell, flute and saxophone. This year brings yet another incarnation of Très O.C. but as more than a Jazz group. "Eclectic Cocktail" is the best phrase for it.
Allan Goodman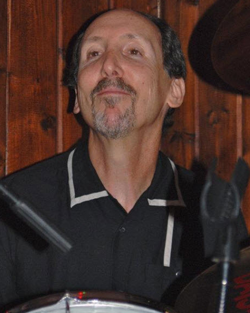 Allan has been playing drums for many years, performing in bands that have played everything from rock, jazz, country, pop, Broadway, Klezmer, to an original Alternative band in the 80s, called "The Other Side". He plays regularly around the Los Angeles and Orange County areas with several bands (but not at the same time!). His style of playing is "playing for the song", and not overshadowing the band. Playing in Très O.C. allows Allan to drive the band in new directions, while always keeping to the spirit of the song.
Sable Cantus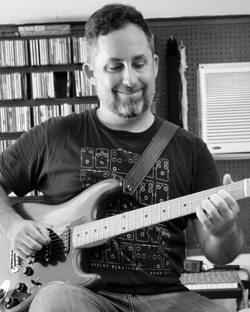 Sable is a seasoned performer who has played hundreds of performances on television and in front of live audiences. Sable was a musician in the U.S. Army band from 1998 – 2002 playing trombone in the big band, wind ensemble, jazz ensemble, pop band, marching band, and sang in the rock band.
Sable has recently been playing guitar and trombone in Southern California at various locations and events such as the Huntington Beach 4th of July Parade, the Nixon Library, Fashion Island, Mile Square Park, City of San Juan Capistrano, and more playing Klezmer, Rock, Jewish music, and jazz.
Sable has a Master of Arts in Music from CSU Los Angeles.